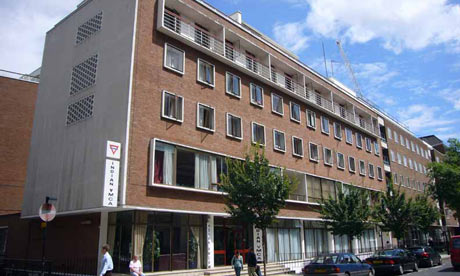 The YMCA movement, is a worldwide Christian, ecumenical, voluntary movement for both men and women with special emphasis on genuine involvement of young people, which seeks to share the Christian ideal of building a humane community of justice, peace and reconciliation for the fullness of life for all creation. The first YMCA was started in London in 1844 and today there are more than 15,000 local associations with 45 million members in above 125 countries, making the movement the largest international ecumenical youth organization in the world. YMCA aims at the overall welfare and development of spiritual, mental and physical faculties of the people without any distinction of caste, colour, sex or race. The movement has rendered pioneering service in the spheres of Education, Sports, Relief and Rehabilitation of Refugees, Physical Education, Youth Work and Camping, Hostels, Co-operative endeavours and Rural Reconstruction work. Its members from different countries form the World Alliance of YMCAs, an organization that has consultative status with the Economic and Social Council of the United Nations.
The YMCA Indian Student Hostel, London is a prestigious project of the National Council of YMCAs of India and it is one of its kind outside India. It was started in the year 1920 and had been rendering pioneering service to the Indian students who have been coming to London year after year for furthering their studies, providing them a safe haven, a home away from home. It also became a cultural centre for the Indian students and crucial place for meetings and interactions between senior leaders in the Indian political scenario and civil servants.
The YMCA Indian Student Hostel, Birmingham is a new project in colloration with the YMCA London venture.
Registered Charity No. 306134
VAT Registration No. 233417878
For more detailed information on our history, view our brochure Triumph of Faith.
Chairman of the YMCA Indian Student Hostel, London

CEO / General Secretary
BOARD OF TRUSTEES 2020-2021
Justice Jacob Benjamin Koshy – Chairman & Trustee
Mr Bertram Devadas – National General Secretary & Trustee
Mr Pradeep Mathew Johns – Trustee & Treasurer
Mr Richard Lees – Trustee & Personnel Committee Chairman
Mr Paulson Kandanaden Paulose – Trustee & Internal Auditor
Mr Jacob Koshy – Trustee
Mr Vincent George - Trustee
Mr Ben Prasadam Halls – Trustee